Activities ...
Sailing Lessons - Offered in conjunction with the MDI YMCA, sailing lessons are offered each summer in Mercuries or 420s like the one pictured below.
Pot Luck Suppers - Two Pot Luck Suppers are scheduled each summer. This is a great opportunity to get out and meet the other members in an informal social gathering.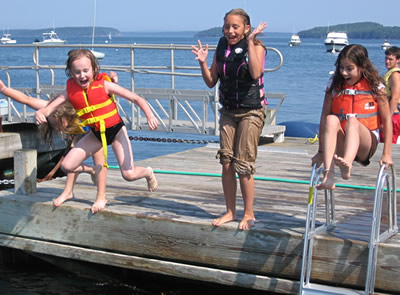 Annual Picnic at the Hop - Sail over to the Hop and enjoy an afternoon picnic on the beach. Members without boats can easily catch a ride.
Sail the Mercuries - The BHYC owns Mercury sailboats which are available to its members.
Saturday Regatta in Sorrento - Every Saturday in July and August the Sorrento Yacht Club holds races off Bean Island. Sailors from BHYC are welcome to meet at noon to head over and join the friendly competition.
When entertaining more than a boatload of friends, the clubhouse is available for limited rentals to members only.